Directions
Fill your stock pot/large soup pot with spring water and turn the flame on high. (or filtered water if you don't have spring water.  I get mine for free from a local public well).
Chop all of the vegetables, ginger, and fresh herbs (if using) into large chunks, no need to be niggly or make them bite size, because you're going to put them in the blender later.
Add the salt, pepper and turmeric and leave the pot to boil.  Once it has reached the boiling point, turn it down to simmer for about 2 hours.
After it has simmered for 2 hours, scoop out all the vegetables and herbs, and put them in the blender or food processor and process until smooth.  Add a cup or so of broth if you need to.  
Reserve 1 litre of clear broth to use for other recipes, or to save for those days when you can't stomach anything except broth.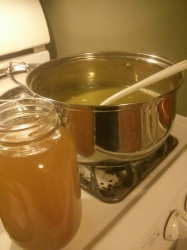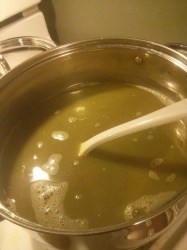 Pour the blended vegetables (it'll look like gross green stuff!) into the remaining clear broth in the pot and stir.  Voila!  Vegetable soup!  Serve in a bowl or a mug.