Originally posted on January 15, 2015

One of the key points that I've learned at the
Institute for Integrative Nutrition
is the concept of "bio-individuality; no one diet works for everyone". And I completely agree with this. Another key point that we have learned, in all of the 100 (!) dietary theories is that no matter if your bio-individulality means you're a raw vegan, or a Paleo meat eater, or something in between, you have to eat *real* food, for real health.
We've had lectures from countless experts in the fields of nutrition, fitness, biology, and a whole bunch of really smart people, all of whom (save one, who said that Taco Bell and Subway are viable vegetarian options!) said "eat real food, not manufactured food like products".
This is food: ingredients - chicken breast, with Thai Sweet sauce, fresh local broccoli, fresh local green beans (cooked over an open fire no less!).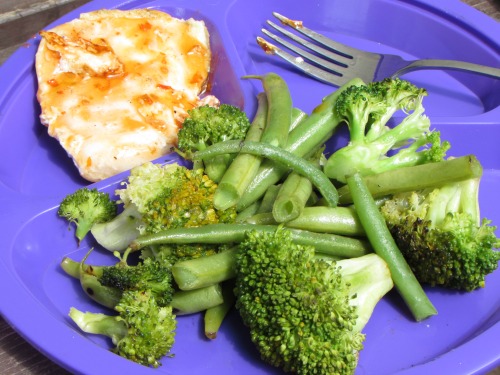 This is not: a popular frozen "diet" meal:
INGREDIENTS: COOKED LONG GRAIN RICE, WATER, BROCCOLI, COOKED WHITE CHICKEN (CHICKEN BREAST WITH RIB MEAT, WATER, SOY PROTEIN ISOLATE, 2% OR LESS OF SALT, SODIUM PHOSPHATE, MODIFIED FOOD STARCH, MALTODEXTRIN AND NATURAL FLAVOR), PASTEURIZED PROCESS CHEESE SPREAD (AMERICAN CHEESE [PASTEURIZED MILK, CHEESE CULTURE, SALT, ENZYMES], WATER, WHEY, SODIUM PHOSPHATE, CONTAINS LESS THAN 2% OF MILKFAT, SALT, SODIUM-ALGINATE, LACTIC ACID, APOCAROTENAL [COLOR]), LESS THAN 2% OF CHEDDAR CLUB CHEESE (CHEDDAR CHEESE [PASTEURIZED MILK, CHEESE CULTURE, SALT, ENZYMES], WATER, SALT, ANNATTO [COLOR]), MODIFIED FOOD STARCH, NONFAT DRY MILK, ROMANO CHEESE (PASTEURIZED COW'S MILK, CHEESE CULTURES, SALT, ENZYMES), CANOLA OIL, SALT, ENRICHED WHEAT FLOUR (WHEAT FLOUR, FERROUS SULFATE, NIACIN, THIAMINE MONONITRATE, RIBOFLAVIN, FOLIC ACID), CHEESE FLAVOR (CHEDDAR CHEESE [PASTEURIZED MILK, CULTURES, SALT, ENZYMES], WATER, YEAST EXTRACT, NATURAL FLAVORS, DISODIUM PHOSPHATE, XANTHAN GUM), SEASONING (HYDROLYZED CORN GLUTEN, YEAST EXTRACT, PARTIALLY HYDROGENATED COTTONSEED AND SOY OILS), MUSTARD FLOUR, ANNATTO (COLOR). CONTAINS MILK, SOY, WHEAT
And then you're still hungry when you're finished, because they're somehow under the impression that eating all sorts of processed carbohydrates and chemicals but in smaller portions will keep people happy and healthy. Tell me, how do *you* feel after you eat one of these frozen diet dinners? Yes, I've had them before. Before I started my journey to health, when I believed the hype that we're fed on television by advertisers. When I thought doctors actually learned about nutrition in med school (they don't!), and when I thought I was doing the right thing. Thing is, when I thought I was doing the right thing, I just kept getting sicker and fatter. And the entire world as a population is just getting sicker and fatter, by doing what they think is right.
So what's the definition of insanity? (oh god! do you remember Susan Powter? Stop The Insanity!) The definition of insanity is "keep doing the same thing over and over, but expect different results". How many restrictive starvation diets do you have to try before you realise it's Never going to work? How many more rice pucks...erm....cakes do you have to eat, and tell yourself "oh yeah, these are yummy!....can I have a drink?" How many more unidentifiable chemical ingredients do you need to ingest before you say "ENOUGH!"?
Why not just eat real food? Don't be afraid to have eggs for breakfast. Don't be afraid to smother your steamed veggies with BUTTER! (not that stuff that tries to make you think it's butter!). Have some butter smothered veggies with your eggs in the morning. Have a BIG, wonderful, colourful, crunchy salad for lunch, with real olive oil and some nice balsamic vinegar. Have a big fat juicy steak for supper, with broccoli and carrots. And yes, you can even enjoy desserts! Have some frozen berries with coconut milk over them. Sprinkle on some cacao nibs if you're feeling adventurous.
Just do yourself a favour. Stop depriving yourself, and start Thriving!
Still confused? It's taken me years to get where I am. I can help. Contact me for a free consultation.