Originally posted on February 3, 2015

I was sitting here at my desk listening in on a webinar, and I got an itch on my head. So I reached up to scratch it. And there were no lumps, or crusty flakes, or scales or anything! I even got up to check my entire head in the mirror! For the first time in my entire life (no kidding!) I Have No Psoriasis Anywhere On My Body! None! Can you even imagine that? I have had psoriasis since I was BORN! I am 47 years old, and I now have NO Psoriasis scales anywhere!
This is weird! Wonderful, but truly weird!
Check it out! (selfies are difficult and awkward)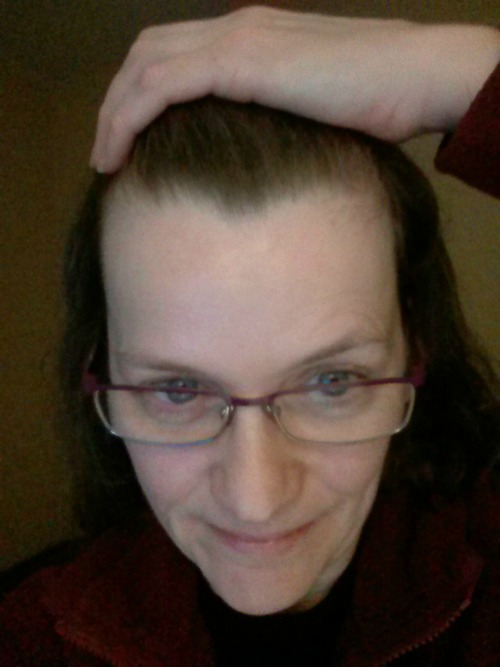 I started the Paleo Approach Autoimmune Protocol in November to get rid of Sjogren's which at the time was my main concern. It was causing all over pain, headaches, panic attacks, confusion, exhaustion, weird taste in my mouth, I couldn't sing (not that I really can, but yanno sometimes you just have to belt one out while you're in the car stuck in traffic!), and my throat hurt like crazy! Never ever did I dream that my psoriasis would go away. It's been there quite literally forever!
It's gone! The Autoimmune Protocol WORKS!
When I was a kid, I had scales all over my body. On my scalp, on my face, on my back, on my arms, legs, belly, you name it. It was embarrassing, and it was itchy. We tried everything to relieve the itch, nothing worked. Or if it did work, it was only temporary. Puberty made it worse, and not the best time in a girl's life to be covered in flaky scales! Once I was past puberty, most of it went away, except for on my scalp, that never did. And the occasional flare due to stress or illness would pop up on my face, or my ears (always loved that one, it felt like my ears would flake off my my head, inside was the worst!), or my chest, or legs, or or or...
When I discovered on my own in 2008 that I have celiac disease, while I was still on meds for Grave's disease, I didn't even know that psoriasis is autoimmune. I just knew that it had always been part of me, and probably would be forever. I cleaned up my diet though with the celiac diagnosis, avoiding most of the "gluen free" foods, and stuck as best I could with the knowledge I had at the time, with whole, natural foods.
Over the years I've learned more, and cleaned up my diet even more. In 2012 I went "Primal", with
Mark Sisson's 21 Day Challenge
. And I did notice that the psoriasis wasn't as bad as it had been, but it was still there. I lived by his 80/20 rule. 80% of the time eat Primal. 20% of the time, you can eat something off plan. But get back on track. So it was for 2 years (yes, I stuck with it 2 whole years!) and I was feeling super fantastic, until Samhain feast 2014 when some lentils threw me for a loop and triggered Sjogren's Syndrome. That was when I went full out
Paleo Approach Autoimmune Protocol
.
Within 3 or 4 weeks, the all over body pain was gone. 2 weeks after that, the daily headaches were gone. And now my psoriasis is gone! The Sjogren's is not yet in remission, the inside of my mouth still hurts, and my throat is still wearing a wool sweater, but it's not as thick as it was in November. I have moments that I notice that my tongue doesn't hurt, and no dryness in my mouth. But talking for more than a few minutes, or singing a whole song is still not possible. Well, maybe just a quick punk song :)
I just really wanted to share my good news with you all. It's been a struggle for me my entire life. I'm near tears right now because I'm so happy that my scalp is not flaking off.
"Let food be thy medicine, and medicine be thy food". Hippocrates, and Sarah Ballantyne! got it right! Thank you Sarah, and thank you Mark Sisson, and thank you to my friend Lisa, who got me to do the 21 day challenge with her back in 2012. It started me in this direction.
I am so happy, and so eager to help other people to overcome their autoimmune disease, because I *know* it can be done. I'm walking, no longer flaking! proof. If you'd like to set up a free consultation, please fill out the Health History form, we'll sit together and you can tell me Your story.