Originally posted on March 1, 2015

Last night I hosted a workshop in my home "Girls Night In - Pamper You - Make Your Own Beauty Products" and a grand time was had by all! Boy did we make a mess of my kitchen! :) But it was fun and educational.
I started out with a short presentation about the
toxic chemicals
in our cosmetics and personal care products, like parabens, synthetic perfumes, petrochemicals, and tocopherols. On average, women will be putting as many as 200 different chemicals in or on their body every morning just as they're getting ready to go to work. Children can be getting as many as 65 different chemicals in their shampoo, body wash, even toothpaste!
I personally made the decision a few months ago to detox my cleanliness (I rarely wear make-up, usually only for cosplay, like Steampunk outings, FanExpo, and the annual Zombie Walk). I switched to all natural body/hand soaps,
Kiss My Face
brand olive oil soaps, organic paraben free, SLS free shampoo and conditioners, and coconut oil/baking soda toothpaste that I make myself at home.
After the presentation, we moved into the kitchen and we made lip balm, body butter, mud mask, and toothpaste.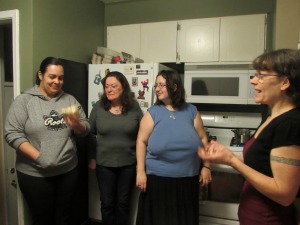 All of the recipes we used were courtesy of the
Wellness Mama
blog. Easy peasy, if a bit messy ;) Our ingredients were organic shea butter, organic cocoa butter, organic coconut oil, bees wax pastilles, bentonite clay, baking soda, and some essential oils.
My Kreacher dog would come into the kitchen periodically to see if anyone had dropped anything he might find edible. Isn't he the cutest thing you've ever seen?
After we finished making a complete buttery, oily, very smelly mess, (nice smells though! except the patchouli...I'm not a fan of patchouli) we adjourned to the snacks table! Check this out
Plantain crackers (recipe from
The Paleo Mom
), sweet potato chips, patè, guacamole, veggies, olives, shrimp and lemonade.
Overall I feel that it went very well, we had a great time, we all now have some new non-toxic lip balm, magnesium body butter, and some toothpaste and mud mask, better yet, we all know how easy it is to MAKE non-toxic products! And I think we all made at least a couple of new friends each.
Have you ever wondered what all those unpronounceable things are in your make-up and personal care products, or wonder what they might be doing to your health? Let me know what you think in the comments below.
I must also thank my friend Lisa for taking all of the photos above. Thanks a bunch Lisa!