Originally posted on October 26, 2014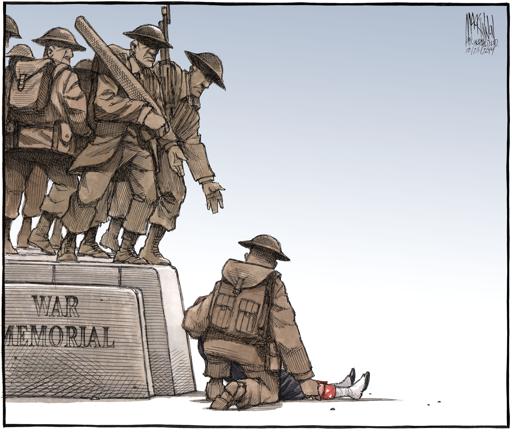 I promise not to get political, or too maudlin on my blog very often, if at all after this. But it was a stressful week around here. It started on Monday with 2 Canadian soldiers being deliberately run down in a parking lot of a shopping mall, and 58 year old Warrent Officer Patrice Vincent later died. Then on Wednesday a crazed gunman shot and killed another Canadian soldier, 24 year old reservist, Cpl Nathan Cirillo, who was standing on guard at the Tomb of the Unknown Soldier in our nation's capital of Ottawa. The gunman then ran into the Parliament building firing his gun through the centre block. He fired as many as 50 shots before he was shot and killed by Sergeant at Arms Kevin Vickers.
On Monday it was sad to see on the news what had happened in Quebec, and frightening that our soldiers are being targeted by extremists. Don't get me wrong, I do not intend to make light of WO Vincent's death in the least, but on Monday, he was "just one". Sad and shocking, but at the time, a one-off. I know that likely sounds heartless but bear with me...
Then on Wednesday another blatant attack on Canadian soldiers, this time with a gun. Cpl Cirillo was approached from behind and shot. Shots were fired at his partner and friend at the memorial as well, but they went wild and missed. Cpl Branden Stevenson then chased after the gunman, before returning to care for his fallen friend at the monument.
Reading the on-line news that day from my desk at work, worrying about friends who live and work in Ottawa, worried about the possibility of more attacks, worried about friends and acquaintances in the Canadian Forces...it got to be a bit much. On Thursday there was news of a man dressed in black cargo pants carrying a gun through downtown Halifax. His gun was later found abandoned on a city bus, the man was arrested a few blocks away. Perhaps not at all related, perhaps he was and he changed his mind, still, adding to the stress. It didn't get any better on Friday when news was posted that the Canadian, Belgian, German, French and US Consulates in Turkey had all received suspicious packages with yellow powder in them, and some consular employees had been taken to hospital.
And then, just to add more to it, all afternoon I tried to reach my Mother on her cell phone and she was not responding. I wanted to go to the overpass to watch the procession of Cpl Cirillo's body returning home along the Highway of Heroes, but I had to rush home instead to make sure she hadn't fallen down the stairs and died or something! UGH! She had "accidentally" put her phone on silent! *sigh* Remember to breathe...
We piled in the car and got to the highway ramp median in plenty of time to see the procession pass through Whitby. There were more people there on the overpass, along the highway, along the plaza fences, on the median, more than any other time before. Every other time we gathered to say goodbye and to support families our soldiers had died overseas in combat. It is sad, but somewhat expected to have fatalities in war. Not right here at home, while guarding a national monument!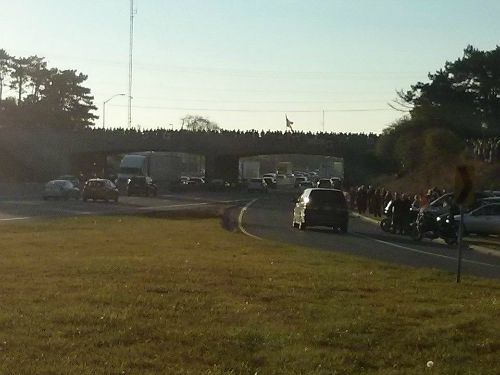 I am proud to be Canadian, at moments like these. We gather together to show our love and support for our armed forces and their families when they need it most. I know it's just a fluke of geography that we can even have processions such as this, and that other countries also honour their fallen soldiers, just in different ways. But this started with just a few people on a bridge a few years ago during the Afghan War, and the tradition has grown over the years to be thousands upon thousands of people on every available overpass along the Highway of Heroes route. Our soldiers stand on guard for us, they sacrifice much. Some more than others.