Originally posted on March 15, 2015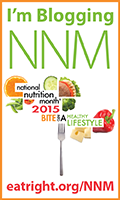 Have I mentioned that this is
National Nutrition Month
in the US? I'm not living in the US anymore, but I have a lot of family, friends, and followers there, so I think it's entirely appropriate for this Canadian to blog about it! :)
I was in my favourite health food store today,
TNS Health Food
to put up some business cards and workshop info cards on their bulletin board and to pick up some raw food for my dog. I wandered down the snack aisle and saw a couple of new things and stopped to have a look.
Normally I would not suggest that packaged foods as a healthy option, but these ones do actually fit the bill quite nicely! And, they're Autoimmune Protocol compliant as well! If you're camping, on a road trip, or flying somewhere and you just KNOW the airline isn't going to feed you anything edible, these, and snacks like them, are an option. Look for short ingredients lists, recognizable as food, not unpronounceable chemical compounds.
Let's have a look at the
Sea Snax
first. I grabbed the onion flavour, as it is the only one that is AIP friendly and I wanted to be able to try all of these so I could give you an opinion of flavour, not just read the package and say "yeah, that's ok". I like seaweed snacks. For those of us with autoimmune disease, blue-green algae "super foods" like
spirulina
and chlorella are not recommended, but seaweed is super good for pretty much everyone! Seaweed is a source of iodine, vitamin B12, and a small amount of omega 3. This little package isn't going to fill you up by any means! But it's an interesting tasty wee smackeral. It's a bit fishy, so if you don't like fish, you probably won't like seaweed. This is roasted, and contains organic seaweed, organic extra virgin olive oil, organic granulated onion, and sea salt. Simple, easy ingredients. All recognizable as food. They have other flavours as well, some hot and spicey, some with nut flavours, which are good for anyone not following the AIP, or if you have successfully re-introduced those foods. They also have "chips" that are seaweed and rice, so, not Paleo, but probably not bad for (very) occasional snacks for those who can eat grains.
Next up is the
Crispy Fruit Apple
. These little apple chips are quite nice. They're freeze dried fuji apple pieces, which have a bit of a different texture to them than say, a dehydrated apple chip like
Martin's
(which I also love!). The freeze dried apple is a bit puffy, and feels almost like I remember sponge toffey to be like. Though not nearly as sticky! I liked these, but for the price, you could eat a whole apple and actually feel like you've eaten something! Like the Sea Snax, they're certainly not going to fill you up, but they're not too bad to add to a snack. They also make Asian pear, banana, cantaloupe, mango, pineapple and tangerine crisps. I think I'd like to try the cantaloupe :)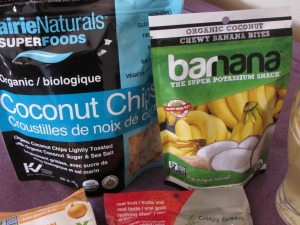 Let's have a look at the
Barnana
Super Potassium Snack. These are chewy squares of sweet yummy goodness! A little bit *too* sweet for my tastebuds, I don't think I could eat the whole package at one sit, (I wouldn't recommend you do either!) but they are very yummy! The ones I got are organic banana and organic coconut, that's it, only 2 ingredients! They're mushed up together into fantastic bite size cubes. They're very much like the snacks that
Nuts.com
sells, which are all healthy and Paleo, just not AIP friendly. I've had the cacao goji squares and they are awesome! Even my not health food eating friends thought so! And the lemon pops are soooooooo good! Nuts.com can ship to Canada without added duty and taxes as well, which is not easy to find! They're my go-to for raw macadamia nuts. When I was eating nuts. I'm sure I will be again sometime, probably soon :)
Last of the packaged snacks that I bought today is the
coconut chips
. Organic coconut, organic coconut sugar, and sea salt. That's all. And I like 'em! A delish blend of sweet, salty and crunchy. If you like coconut, you'll like these. There's not a lot of sugar really, just enough. And this is quite a bit more substantial than the other snacks. The whole package would fill you up, and still be less sugar than a typical packaged snack at only 16g! Though I don't think I'd recommend you eat the whole package at once! ;) Last summer on one of my camping trips I bought some
Phony Baloney's
Coconut Bacon, which was not bad, but it's not bacon! I don't know how they make coconut taste like bacon! The flavour was a bit weird, and it had a strange mouth feel and after taste. Would probably be ok on a salad. But if you're an omnivore, just have real bacon.
I have a couple of plane trips coming up this year, and at least one camping weekend scheduled, so I may just be getting myself some of these again. I love nuts and trail mixes as well, but nuts can be tricky to take along on a plane. If someone with a severe allergy is sitting around you, they may ask for a nut free zone, and then you end up going hungry for the flight! So these nut free snacks would be a pretty good option.
Better yet though, go for Nature's Fast Food! Fruits are awesomely nutritious, just as portable, and they come in their own biodegradable packaging. :)