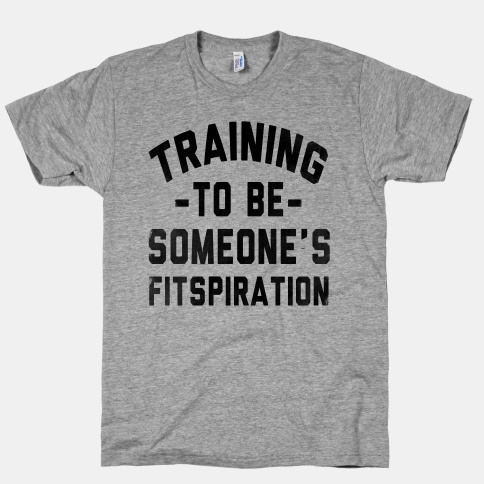 t-shirt can be purchased from http://www.lookhuman.com/design/32473-training-to-be-someones-fitspiration (I'm not affiliated, I just like to be fitspiration)
Allow me a quick ...ish...boast!
Yesterday afternoon I competed in the annual Warrior Games. I didn't compete last year because I had tweaked my back, and I was studying for IIN. I had competed 2 years ago though, and I did quite well and was proud of myself then. Yesterday I broke not just a Personal Record, but also the women's field record for javelin throw at our games. I chucked that javelin 37 feet 7 inches! Two years ago my best throw was only 20 feet 2 inches! HA! I am quite chuffed. I placed second in the women's overall, and yes, I am quite proud of myself. I also lifted what was dubbed the "original recipe" rock, which weighs about 80 pounds. I almost got it to my shoulder, but couldn't quite get it up over my boobs. I will keep practicing though! Kreacher won't like it, but he'll just have to suck it up. He's the heaviest thing I've got to practice with.
I can't remember what my hammer throw was, it was in one ear and out the other because they told me it after they'd told me I had the javelin record, so it really didn't sink in. Or matter ;)
I hurt today though boy! A list of our games - in order of memory, not necessarily how we competed. A foot race, javelin throw, (sledge) hammer throw, hunker down (a 2 person tug of war, but standing on a 1ft sq board with 2 smaller pieces nailed under it to make it unbalanced), sheep carry (I wiped out doing this one!), tug of war (I got rope burn, my hair pulled, and my toes squashed by team mates - no hard feelings, I walked it off!), closest to the peg (toss rocks at a peg), lift HEAVY rocks! I got to the 80 pound one, but couldn't budge the 150 pound one. I was tired, I should have started with that rather than leave it til the end of the day! Oh, and a really horrible quiz of riddles. I hate riddles. They might as well all be Bilbo asking Smeagol "what's in my pocket?" because I really don't fraken know! I think that's all of the games, I may have missed one but I don't think so.
All of that was after I'd been out picking blueberries for a couple hours the day before, and my butts were aching still from the day before that from squats and kettlebell swings! Plus of course, keeping up with my push-ups and mountain climbers 30 day challenge. Which I had to do after I got home last night after all the games. I was exhausted, but I still managed 10 close grip push ups, 8 regular push ups, and 15 mountain climbers. Today I have to do more.
Pain today, greatness tomorrow! Next year I'll win :)
Oh yeah, I will be turning 48 years old in 27 days. I placed second and my friend who placed first is 18 years younger than me. Yeah...I'm chuffed. I deserve it :)