Originally posted on March 7, 2015

Yes, I know that's not very good grammar, but it's hard to word after you've done that much spinning!
I was up before the sun this morning to make sure that I would get to the gym on time for
Spin4Kids
(<- you can still donate until March 15!) and even though I live the closest of all my team mates, I was the last one there. I'll blame the dog for dawdling on his morning walk.
Originally we were to each go in shifts, starting at 8am, but then they rearranged the schedule so that we could all go at the same time, so session 1 we knocked off 5 hours all at once. We only had 5 on our team, so we had to do a second session at noon.
Here's us just warming up for session one, all nice and not sweaty yet, and no pain.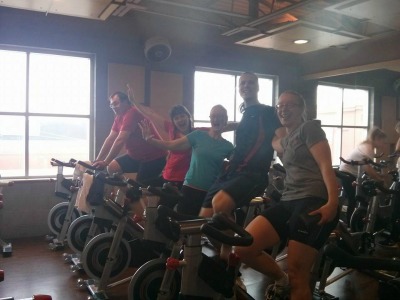 Here's an action shot, about half way through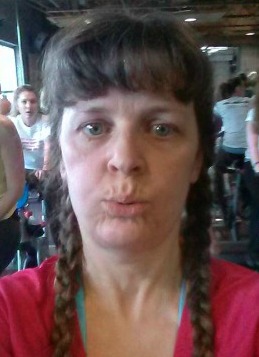 and here's what I looked like at the end of it. A little red in the face!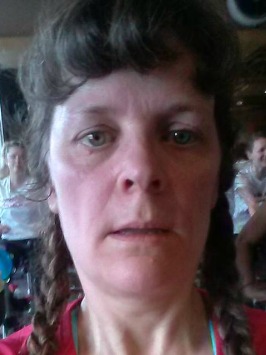 Here's the team, as nice a group to sweat with as there ever was :)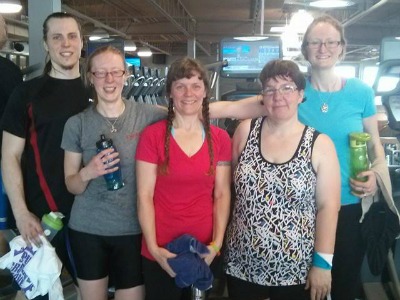 We weren't scheduled to be up again until noon, so we decided to go tour the gym. Two of my team mates, Lisa and Nathan, have been there before, but the rest of us hadn't, and we figured we might as well check it out (I may join...I don't know yet) and Nathan and Lisa could give us some instruction on lifting heavy things that are not four legged, or squalling children.
All of this of course is after I had done a KILLER workout on Wednesday night (that I am still hurting from!) at
ActiveLife Rehab
at the suggestion of my chiropractor. He calls it their client retention class! Though now it's hard to tell which is hurting more, that workout, or all the spinning. I'll have to get back to you on that ;)
Next was lunch, then it was time for round 2! Ding ding ding!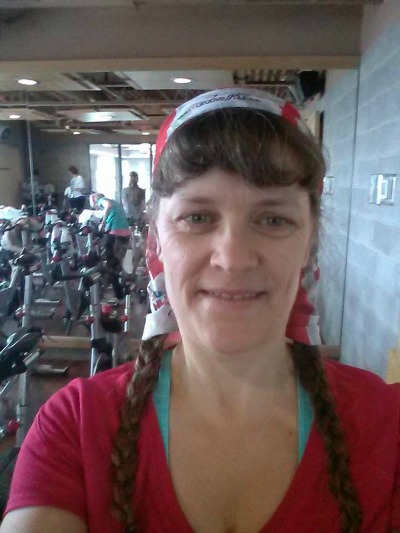 Round 2 was tougher overall, because yanno...we had already done one hour already today! But it was cooler in the room because they finally turned on the A/C for us. Round one we didn't have the A/C, so second time around I didn't get quite as red in the face; I was sitting directly under the fan. Oh, and they had given us these really kewl head sock things. I have no idea what it's supposed to be called, but I called it my "Jar Jar Binks look" :D
Here's me at the end of it. It seemed to go a whole lot quicker than the first session...I may have been a bit delirious.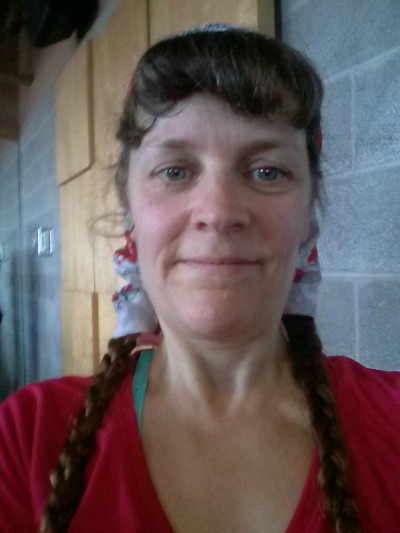 Lisa says we should do it again next year, and each do 3 hours! I think she's crazy. There was one man in there though who was going to do all 8 hours, when we finished up our second session, he'd been there 5 hours already. I do hope he managed to accomplish it. I know I couldn't do it! Not today anyway.
So, that's my adventure for this week. A lot of sweating, a lot of muscles worked that I had totally forgotten I even owned! and a wonderful sense of accomplishment and pride in how much I have worked to get to this point, considering where I started from, and the shape I was in before. I NEVER thought I would be able to do anything like this, and here I am doing it. And thinking of doing it again, and stuff even more crazy than that! Like walking for 350km+ in the Fall! In Spain.
Oh oh oh! I almost forgot! I'm going to New York City for the
Institute for Integrative Nutrition's
Spring Conference. I am so super excited about it! I watched the last one from home on the internet, and it was so much fun, and emotional, and invigorating, I'm almost afraid that being there live might be too much for me! But I can't wait to meet my fellow classmates, and hopefully get to see my friend Joe whom I haven't seen since 2001. He lives there, and has been my tour guide in NYC on a couple of occasions when I used to travel a lot more than I am able to now. I'm going to be racking up my credit card some, but it is so worth it! I wouldn't miss this for anything! Sometimes you just have to do what you have to do right? This is like my graduation, it's just days after our final test, and I've worked hard for it, and I deserve it. Hopefully I get a tax refund this year to cover it ;)