It's thanksgiving weekend here in Canada, and we have a lot to be thankful for. One, the weather here in Toronto this weekend is FANTASTIC! Despite a quick shower of some chilly rain yesterday morning while Kreacher and I were out, the weather is amazing for October! I really should have gone camping this weekend, but as always, dinner is at my place, and the rest of the family isn't too keen on camping like I am. Maybe I'll go next month.
We're also all healthy and happy. My sister and her husband and 2 kids were here, and my cousin and her daughter, and me and mum for dinner last night. Oh, and my sister's new dog Rusty. They've had him now I guess a couple of months, and this was his first visit to the condo. So of course he had to "christen" the wing chair ;) It's not a family gathering until some dog pees on the furniture! Last Christmas was Tyson, on my bed! :o

It was also my sister's birthday, she usually gets pumpkin pie instead of cake, but I decided to make a cake, and at her request, I tried to make Black Forest cake. But where the heck do you find fresh cherries this time of year in Southern Ontario? Well you don't, so I used frozen. I used the recipe that I did last year for friends' 30th birthday and rather than lemon & blueberry made it dark chocolate. It turned out ok, but still needs work before I share it with the world.
I wanted to share with you this week how to deal with cold sores. I've had a couple in the past 2 months, I'm not sure what triggered them, but now I think I've figured out how to deal with them. I used to get them quite a lot when I was a kid, several times a year, and into my 20s. They went away for a while, and I hadn't had any for years. Common triggers are stress, not enough sleep, too much acidic foods, and fever.
The thing with cold sores, or herpes simplex labialis, is that you can never get rid of it. It's a virus that can lie dormant in you for months or years, and then something will trigger it back to the surface and Boom! you've got another cold sore. Some people are more susceptible than others for some reason. I don't think my sister ever had any, but there were times when my entire mouth would be covered, and that's really painful, and embarrassing! When I was a kid, I remember my mum putting alum powder on them, so to make the scabs even more noticeable, I also had a big glob of white powder stuck to my face. Then someone invented Abreva, and I thought life was grand! Then Polysporin came out with those healing patches, which are great to cover them up so you can hide it, but I personally think it extends the life of the cold sore, because when you have to remove the patch to put on a new one, it inevitably takes some of the sore with it. My last cold sore lasted more than 2 weeks, and the patch I think caused a bit of scarring. But it was FanExpo, and I didn't want the cold sore ruining my costumes ;)
Then I got another one this week! It started Monday morning, the tell tale tingle and pain in my lip. How annoying. I immediately put some Abreva on it, and just hoped it wouldn't last 2 weeks and be all disgusting like the last one. Then on Tuesday I was totally annoyed with it when it started to get a second blister, so I went aGoogling. Yes, that's a word! I typed in "paleo diet cold sores" and found some information about L-Lysine supplements and lip balm at this blog. So I went to the drug store and bought some. And my cold sore is almost all gone, with minimal suffering this time around! It didn't get all gross and scabby, and didn't take over my face.
I also just received this newsletter from Dr. Axe that says cholorphyll can help cold sores, and I've got some in the fridge still from trying to de-stinkify the dog after he got skunked. Chlorphyll can be used as an internal use to control body odour. I think it has helped a little with Kreacher's skunk problem, but by all accounts from friends whose dog(s) have been skunked, it'll be about a year before it's entirely gone. *sigh* It's also good to add to your own drinking water, and the taste is not bad, it just tastes green. If you know what I mean.
Kreacher and I got to do some "forest bathing" this morning. I love being so close to a conservation area that we can get our dose of communing with nature, right here in the Big Smoke. The juxtaposition is sometimes quite jarring though. Check out this pic I took today.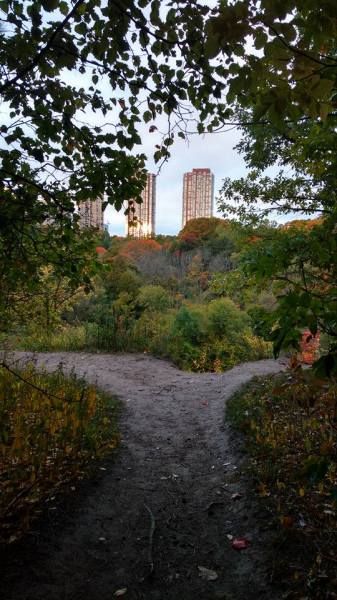 Kreacher and I both enjoy our walks in the woods, and I'm very thankful that it is so close to our new abode.
I also wanted to let you know that next weekend I will be giving my "Feed Your Spirituality" workshop at the Toronto Pagan Pride Day Harvest Festival, taking place at Taylor Creek Park on Dawes Road in East York (Toronto). Festivities start at 10am and go til 10pm. Drop in whenever and for however long you can! I'll be jumping right back into Health Coaching, and this will get me revved up again.
Are you interested in learning more about my coaching services? Send me a message, just click the "Contact" link at the top right of the page to schedule your free one hour consultation. :)