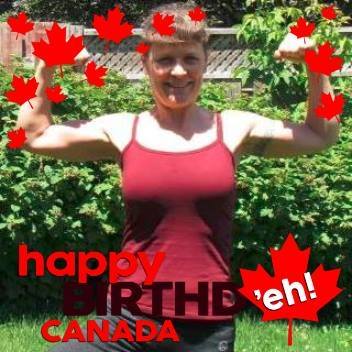 Ok, well, I'm a couple of days early, but tomorrow morning at Oh My God It's Early, I'm hopping on a train to Ottawa (yep, again!) to celebrate Canada's 150th with 500,000 or so other people! This is going to be BIG! And kinda scary! But this is my year of adventure, so I'm excited!
I'm going to be meeting up with some friends while I'm there, some I haven't seen in quite some time, and some I've never met! But I've known them for years over the internet. If we can find each other in the throngs of people that is…seriously…500,000 people! I can't even fathom what that's going to look like!
I'm all set though. I have my snack foods all ready to go, and my friend that I'm staying with is stocking up on breakfast foods, so I can eat a big hearty breakfast and then head to The Hill for the day. I've got some almonds and tiger nuts, a small tin of tuna, some dried fruit, some dulse (sea weed), and some coconut chips. I've also got a 1 litre refillable water bottle, a shoulder tote to carry that in, that also holds my roll of toilet paper, hand soap, some lemon and lime drink crystals, and some minor first aid supplies like hand sanitizer, band-aids, and gauze in case I get a blister or something. Or you know…large crowds of people…anything could happen, so I will be prepared! I'm a virgo. It's what we do!
I'm going to try to post some photos to my Instagram if I'm able to get wifi connection during the day. I don't want to get dinged for data roaming charges, so I will have to duck into a coffee shop now and again to keep things updated. If you are not already following me on Instagram, look me up, I'm healthcoachreba. I'm going to try to video the opening ceremonies when everybody is singing the national anthem, it'll probably be REALLY FRACKIN' COOL! I think Instagram only allows 30 seconds of video though, but I'll give it a shot.
I had one of those days today, but then I met a nice lady while Kreacher and I were out for our afternoon walk, and she said I have very nice posture, I have a bit of a childish face, and I look like I have a mischievous streak. Who, me? Nah! And she said I don't look 50. Which is always nice to hear! Of course, technically, I'm still a month and a couple of days away from 50, but still…
I was also just reading about a trial that was sponsored by Auum Omegas and the Canadian Diabetes Association to treat diabetic neuropathy with Auum Omegas for 12 months. The study concluded that using Auum Omegas for 12 months can stop the progression of diabetic peripheral neuropathy. This is pretty amazing news for anyone with neuropathy from any cause! My mum has been taking it now for a few months to help with her neuropathy caused by chemotherapy and shingles. I've been using it for a couple of months, with GREAT success as well! My muscles and tendons are not nearly as stiff and tense as they were, I can think more clearly, I sleep better, my hand that got messed up from a fall on the ice 3 years ago is healing better…so many things have improved that I never thought would! Especially my hand, that amazed me when I could make a fist again!
If you'd be interested in trying some Auum seal oil for yourself, let me know. I'll get you a bottle, for a special Canada Day price! Email me before Tuesday July 4th to get special price of $35 for the D3A, or $30 for the capsules or the Pets. Now this oil is not like other supplements, you take ½ tsp of oil under the tongue and hold it there for up to 2 minutes or more. This has proven to be the most effective way for it to be absorbed, and by taking it sublingually, it reaches your blood stream within 90 seconds. There is an option to take capsules and swallow them, but it has to go through your digestive tract and may lose some of its effectiveness. But it's STILL more effective than fish oil supplements! Why? Because seals and we are mammals, so our bodies don't have to convert the fats to usable form. Fish are fish, and our body has to convert the fish omegas, making them less effective. Auum Omegas truly are amazing, and have helped so many people in my family already, including my dog! They're comparable in price to a good quality krill oil, but the krill oil business is not sustainable, populations are dwindling fast, seals are not in any danger of becoming extinct any time soon.
If you're interested in knowing some more about Auum Omegas, or how they may help you reach your health goals, or even if you just want to talk about your life in general, let's make an appointment for a no charge one hour health consult. I can ship Auum Omegas south of the boarder, or pretty much anywhere.
Well, that's it for me for this week! I wish you all the best and safest Canada Day celebrations, and a lovely relaxing (if you want it) long holiday weekend! For my American friends, have a wonderful Independence Day on Tuesday!