I hope you all enjoyed Canada 150, and/or US Independence Day. Or if you're not in North America, I hope you enjoyed the first and fourth of July.
I tell ya, I'm still recovering from Canada 150 in Ottawa! It was a VERY LONG DAY! Spent in the rain and muck, and though I was surrounded by hundreds of thousands of people, I was there alone. But no way was I lonely! Holy jumpin' no! There was so much to see and I love people watching.
I stayed with a friend who lives a short bus ride away from downtown Ottawa. She and her husband did not want to join me, they have been there done that, and didn't want to brave the crowds. The usual attendance for Canada Day in Ottawa is about 100,000. At any given time, about 36,000 people can fit on The Hill. For Canada 150, they expected around 500,000. I think they were bang on. There were a LOT of people! Some were being turned away from going up to The Hill, even after standing in line for 4+ hours! I'd have been livid!
My friend drove me to the bus depot in the morning and I got on the bus to downtown, in the pouring rain. I arrived downtown, in the pouring rain, to find my way to where the lines started. There were already tens of thousands of people lining the streets. It was insane! I figured after seeing the photos of the security setup that it would take about 2 hours to get through it, so thought I had left lots of time. Nope nope nope! Apparently, some people started lining up at 6:00am!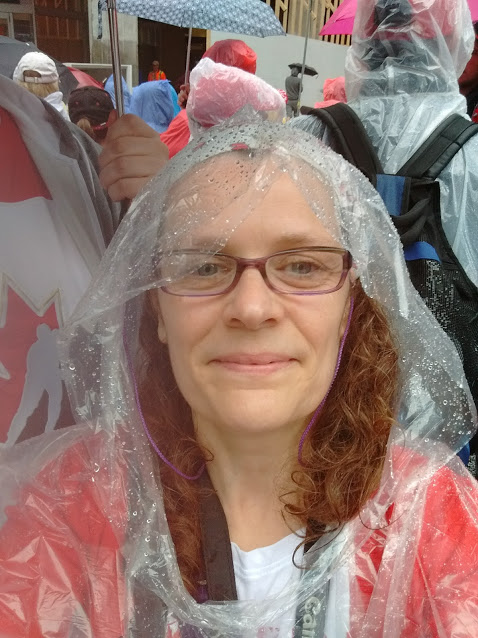 It took over 3 hours to go just one block. We stood there that entire time. No toilets, no food, no seats. We made friends with those who were crushed around us. And crushed we were! I met a couple who had made the trip from Mexico. A father and son from New York. A woman who was travelling on her own from Mitchell, ON. And a couple from just down the road here in Scarborough! People from all over for whatever reason decided they just had to be in Ottawa for the Canada 150 celebrations.
There was security everywhere. Dumptrucks, Diggers, Garbage trucks, concrete barriers…anything they could think of to block off streets to detract anyone from driving cars or trucks through loaded with explosives. Snipers on rooftops. LOTS of snipers! And RCMP, Military Police, Metro Ottawa Police, everybody was called in, and some were carrying really big guns! Which is unusual to see here on streets in Canada. But honestly, it didn't dampen our spirits. Even the incessant rain couldn't dampen our spirits. Though the 4+ hour wait in line did start to grate after a while!
I had wanted to try to meet up with friends who live there, and who I knew would also be visiting. No go. There was just too many people, and then my phone died. *woe* I brought my battery charger, but had somehow forgotten the power cord. *woe* and the only charging station was down the bottom of The Hill, which meant I'd have had to go down, charge my phone, then stand in line for another 4+ hours to get through security. Wasn't gonna happen! N'uh uh! So I stayed on The Hill. Until the fireworks were done at around 11:30 pm. Yes, I was there for over 12 hours, and hardly sat the entire time. I got maybe 2 hours of on my butt time, the rest was spent standing or walking around. I'm still tired!
The sun did finally come out for a short while, and I had to put on some sunscreen. I found a spot on the lawn that was sort of not terribly mucky, so I laid out my dollar store emergency poncho (easier to carry around than an umbrella) and sat on that. That lasted only about an hour or so, then the clouds rolled back in. It was amazing how dark it got so quickly, and every one of us who had braved the muck to sit down, all got up at once, put the ponchos back on seconds before the heavens opened and dumped on us again! The quagmire deepened. I didn't sit again until I got on the bus sometime shortly after midnight. Yes, I was exhausted! It was a lot like how I imagine Woodstock had been. Without the naked and stoned hippies.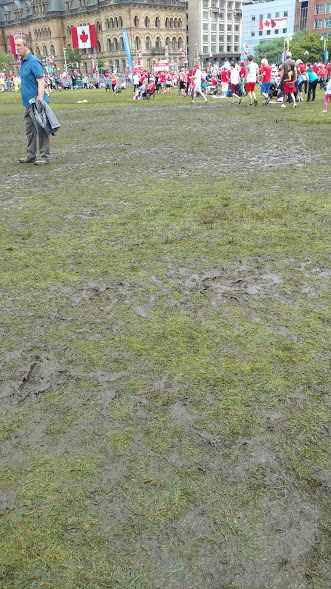 So how does one survive such a day!? Well, with lots of foresight. Lucky for me, I'm a prepper!
I had a nice big nutrient dense breakfast of eggs with kale and spinach, and I stuffed my purse with lots and lots of paleo snack foods to get me through the day. It certainly would have been a bit more difficult if I was still strictly AIP, but I have re-introduced a lot of foods, so I was ok. I took a small tin of tuna packed in oil. And a spork to eat it with. I always look for "dolphin safe" tuna when I can. I also had a large serving of almonds and tiger nuts, some dried apricots and figs, and some dulse sea weed. Thankfully I had brought enough to keep me going for the entire time, because there was NO food up there that I could have eaten! There was only one food vendor, and all they had was hot dogs, hamburgers, and BBQ chicken, which I'm sure all would have contained gluten at the very least. Plus, the line up for that was over 2 hours long! After having had to wait over 4 hours to get through security! Nope nope nope! I also had my refillable 1 litre water bottle, and there were water stations all over the place.
I know a lot of people think that paleo and AIP are too restrictive. That there's nothing to eat. That they'll starve. That they don't know what to eat. But there is LOTS to eat! So much to eat! I wasn't the least bit hungry at all, not even when I got home at 2am. But really, everything that I took with me, except possibly the dulse, are fairly standard fare snack foods. The dulse would be if you're from the Canadian Maritimes. These are road trip foods. Camping foods. Just bring enough with you to get you to the end. Hard sided coolers were not allowed. And who the heck wants to lug a cooler around all day anyway? There was only the one food vendor because of security, they didn't want to have to check and re-check delivery trucks all day long (rightfully so!) I have celiac disease, so I always just figure there's not going to be anything for me to eat. So I bring food. It's either that, or starve. Or go back down The Hill, and have to wait in line again for another 4+ hours to get back up! Nope nope nope!
If you need some prepper tips, give me a call. Send me an email to rebecca@rebaweber.ca or click "Contact" above. I'd be happy to talk for a free one hour consult to help you get ready for your next adventure! Next month, I'm heading out for a solo backcountry hike into Bon Echo provincial park! I've got leftovers. I'll be ready! ????