Twenty-five-thousand-nine-hundred-and-fifteen. That's how many steps I did on Friday while hiking in Bon Echo Provincial Park. Give or take. With a 14kg/30lb backpack on and it was about 36C/97F with the humidex! I was drenched with sweat, and swarmed by mosquitoes, deer flies, and all manner of bitey flying things, despite the DEET and long sleeves and long pants!

I had initially intended to only do a short hike in, about 2 or 2 ½ hours, because of the heat. The temperature forecast for Saturday was to be quite a bit cooler and less humid, so I figured I'd do the long end of the loop on Saturday morning, rather than on my way in Friday afternoon (after an almost 5 hour drive up there, that should have taken only 3 hours, because of highway closures for an accident overnight!). I started on my way at 1:30 in the afternoon, and figured I'd be at my campsite (number 530) by 4:00 at the latest. Easy peasy, set up the tent, make some dinner, sit and relax and enjoy the view before bedtime. WELL! Not so much. I missed a left turn, and took the right fork in the trail instead, and ended up on the longer end of the loop, so I was out there for quite a lot longer than I had planned.



And this was after having learned this week in the AIP cert class that excessive exercise can indeed contribute to leaky gut, and significantly exacerbate autoimmune disease. Which of course I already knew, because I've lived it, and which is why I had intended to take the short loop in the heat, and the longer loop on the cooler day.

Oh, and I had forgotten my glasses AND my map in my car when I headed out! LOL! Yep, it was just that kinda day.

My pack was really heavy, and not adjusted properly, so my shoulders were getting really very raw. I'm surprised there aren't bruises. I will have to consider buying a new pack if I ever feel crazy enough to go do this again. And of course, when I was packing on Thursday evening, I got a huge tear in my pack anyway, so 2 reasons to start looking for a new one. I hadn't used this one for backcountry yet, only a couple of times for car camping, and once for a day urban hike when I was thinking about doing the Camino and I wanted to be sure I could hike 20km with a pack on my back. 20km in the bush is entirely different than 20km on suburban streets though, let me tell ya!

With all the rain that we've been having this summer, quite a lot of the trail is swampy, full of bugs, and kind of smelly. One stretch of swamp reminded me of the Bog of Eternal Stench in the movie "Labyrinth" with David Bowie. If you haven't seen it, it's on YouTube.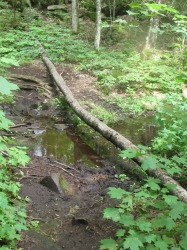 It was so hot, and I had started to get a bit worried that I wouldn't ever find my campsite, that I couldn't stop to eat. I had a couple electrolyte chews and that was it, other than my breakfast before I left home, at around 8am. Good thing it was a big breakfast! I was well hydrated though! I was bummed that my water bladder had sprung a leak when I was packing, so I had to use 2 – 1 litre bottles instead of the 2-litre bladder + 1 bottle. Oh yeah, I also need to buy a new hydration bladder! Yep, that kinda day!

Finally, at just before 5pm (remember I figured I'd have found my campsite and be set up by 4pm already) I came across a lovely couple who were taking a rest at campsite 527. They were just out for a day hike, so didn't have any gear with them other than a pack full of bottled water and some bug spray. They were kind enough to share a half litre bottle with me, and to share their map with me. Turns out that I had almost another 2 hours of hiking to do, because I had taken that wrong turn. They walked out with me as far as they were going, and then sent me off on my way again, back along a portion of the trail that I'd already hiked earlier in the afternoon! I had to meet up with the correct fork. We talked for a bit, and they asked me what I do that I'm able to have Fridays off, so I told them my full-time job I work at JDRF. Coincidentally, they have a son who has T1D who was at Banting Camp for the next 2 weeks. I also told them I'm a health coach, and about my collection of autoimmune diseases, half of them they had never heard of before. They were super nice people. Thankfully I didn't meet up with any of the crazy perverts my uncle was convinced I'd come across while I was out there all by my onesies. LOL!

By the time I reached my campsite on Friday evening, it was 7pm, almost on the nose! I started out at 1:30. Long day. And it was now starting to rain, and getting really really windy. The dip in temperature was welcome though, and I didn't mind the rain, it cooled me off. The wind was a pain in ass though, my tent kept blowing away as I was trying to put it up! I've never had so much trouble getting that tent up, it usually takes me about 5 or 10 minutes. It took me nearly an hour! By that point, it was too late to even thing about cooking any supper, because by the time I'd finish that, I wouldn't be able to see to tie my food bag up in the tree to keep it away from wildlife. There hadn't been any bear sightings recently at that end of the park in quite some time, but why take chances? I wasn't up to wrestling with a bear after that hike! So I got the tent up, had a handful of nuts and a couple pieces of apricot and tied the food up, found the shitter box, and then crawled into the tent to go to sleep at 8:59pm.



The winds continued, and the rain got harder. At some times I felt like I was camping on the side of the 401 Hwy, the wind was so loud! If a bear, or a crazy axe murdering pervert had walked up to my site, I wouldn't have heard it until it ripped through my tent! I didn't get too much sleep. Not because I was worried about bears or perverts, but because the noise! And I didn't have a pillow. Or any clothes to ball up to use as a pillow. And then I had to get up to pee. That's what happens when you drink about 4 litres of water during the day. And I couldn't find the shitter box in the dark, even with my lantern. So, I squatted, because that's what you do out in the woods. But I picked up the TP and made sure to put it in the proper place in the morning. Take only pictures, leave only footprints.

The rain and the winds calmed down sometime just before dawn I guess, so I did get a little sleep, but not much. I crawled out of my tent just after 6:30. It was chilly, but I could tell the sky would be blue, and it would be a glorious day. I had some breakfast (bacon and eggs and some peas in the pod), and then packed up to go. One night wasn't nearly long enough, I really wish I could have stayed at least one more, but the park was booked, and it was all I could get. I should have reserved much earlier in the year. Bon Echo is a very popular park, and long weekends fill up fast. Next time. Though I think I'll go later in the year, so there won't be so many bugs!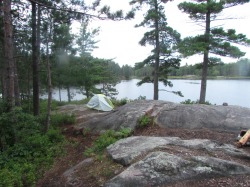 The last time I went backpacking in the wilderness was way back in 2003 maybe. My then husband and I went for one night in Linville Gorge in North Carolina. We had planned on doing more than one night, but he got sick and decided he didn't want to stay out there and wait it out. The hike out was a lot harder than the hike in the day before! It's a fairly steep decline on the way in, all switch-backs, and relatively easy. On the way out though, it's all uphill! And really steep! And it was hot out (seems to be a theme). He had packed way too much, so his pack was too heavy, and he was sick (dehydrated but wouldn't believe me it was something so simple and just drink more water). We ended up he had to stay on the trail and wait while I continued up the mountain to take my pack to the car, empty it and then go back down for him and take some of his weight out. Luckily, I met a nice couple out for a day hike (again…theme!?) and the man was kind enough to go help my husband up with his gear. Have I mentioned that my ex-husband was a US Marine? The young man who helped him back up the trail was US Army ???? We all got a chuckle out it.

After *that* hike, I was in bed for days. Couldn't move. I remember dragging my feet just to get out of bed to go to the toilet, and I couldn't get up and down off the toilet even! It was PAIN! This was before all of my diagnoses of Grave's and celiac and Sjogren's, so I was still eating all kinds of gluteny foods and junk food and crap. I wasn't a very healthy person at all. I had fibromyalgia, migraines, IBS and all of those other diagnoses, and a handful of pills to take for pain and muscle spasm, and and and…but none of it really helped of course. Just really made things worse.

After Friday, and Saturday morning, yes, I was sore in all the places one *should* be sore in after a 20km grueling hike in the woods in intense humidity and heat. My quads, and my glutes, (lots of hilly spots!) My hips. My shoulders! My poor poor shoulders! When I got home on Saturday late afternoon, I was pretty much baked. The drive home had been easy thankfully, but I took the scenic route, to avoid possible highway road closures again! So it took just a little over 3 hours I think. I flopped on the couch and binged on Blue Bloods. My brain really couldn't have done much else than that. Which is expected after such exertion. But I could still get up and move around, and I could get up and down off the toilet without grunting or moaning and without any pain. I was amazed really. I thought for sure I'd be more sore than that, but nope! My paleo AIP diet, and I'm quite sure the Auum Omegas have helped me with physical stamina, and with recovery better than I even dreamed of! I really thought I'd be a lot more worn out than I am!

Sunday morning came and I deliberately slept in to just whenever my brain said to wake up. Sleep is very important to recovery from physical exertion like that. I didn't set my alarm, and I was up before 7am. Kreacher and I went for a city walk, I guess he figured I couldn't handle the woods, and while I wasn't up for a jog, it was a nice easy stroll. We never jog anyway! I had a nice breakfast, uploaded my photos from my camera to my laptop, then had to go shopping and to my cousin's birthday party. Got home from that just before 8pm (she's only 10 years old, so not really much for staying up late drinking and annoying the neighbours ???? )

Monday I again deliberately did not set my alarm and slept until my brain said to wake up, this time until just after 7am. And took Kreacher for a walk in the woods in the conservation area for about an hour. That was nice. Not so many bugs there! Got home and for some reason my laptop wasn't working so I was unable to do any of my work that I had intended for yesterday, but I did get a lot of reading done, so I got caught up from my 3 days away from the AIP cert course. Now I'm a day behind but I'll catch up!

This is probably the longest blog post I've ever made you read! And I didn't even give you all the gory deets! There's a few pictures that might give you some idea of what my day was like. If I told you the whole story now, it would be a book and we don't have time for that right now. If you're interested in some more of the funny things that happened along the way, like maybe the huge bruise on my left knee, or how I punched myself in the eye a few times, comment below, I'll fill you in!

Until then, if you're an adventurer at heart, and your autoimmune disease or other chronic disease has got you stuck just flipping through the Canada Parks magazine, send me an email to rebecca@rebaweber.ca or click the "Contact" page at the top right of your screen, let's see how my coaching services can get you back outside to the great outdoors!