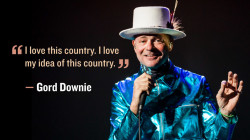 "September seventeen, for a girl I know, it's Mother's Day".

All of Canada is grieving. Everyone will remember where they were when they first heard that Gord Downie had a brain tumor, and was dying. I was in my car, driving to work. Now everyone will remember where they were and what they were doing when they first heard that he had died. I was at work, sitting at my desk, about to check my personal email on Yahoo.

"Tragically Hip Front Man Gord Downie – Dead at age 53"

A huge red banner across the top of my computer screen. I gasped, in shock. The lump closed my throat, and tears welled in my eyes. I got up from my desk, and walked over to my friend's desk. "I want to cry", I said to her. I already was crying. "what? Why? You look as if…" she looked at me realizing something very unpleasant was about to come out of my mouth. "Gord Downie" was all I could say. Tears again. Her hand went to her mouth, "No! What?" she knew what I meant, we all knew it was coming, but we all hoped it wouldn't. "he's dead, I saw it on Yahoo". She reached for her mouse, and looked at her computer screen, then back to me. She did that a couple of times before she could even type in the news URL. There was also something about a horse in a Super 8 hotel. Then she texted her husband. He had sent her a photo of an inappropriate sketch done by one of their kids. Their first date ever was at a Tragically Hip concert.

The Tragically Hip have been recording music, telling the story of Canada for 30 years. More than half my life. That means something.

When "Fiddlers Green" was first released, I felt as though it had been written for me. I knew that it hadn't of course, but I felt like it had. September 17, 1988 was the date that I was taken to hospital, hemorrhaging and in pain. Before dawn on the 18th, I was wheeled into surgery. A ruptured ectopic pregnancy. I learned months later that it had been a boy. About 12 weeks along. The size of my fist.

"Her son has gone alee, and that's where he will stay"

That song ALWAYS makes me cry. Gord actually wrote it for his young nephew, who died of a heart defect at age 5. I've had "Fiddlers Green" and "Ahead by a Century" on an endless loop, all mashed together since I saw the big red banner. Even when I have my earbuds in, with the volume turned up a little too loudly to try and drown it out. I'm listening to an audible book "Outlander". It doesn't work.

"You are ahead by a century, and disappointing you's getting' me down…wind on the weathervane, tearing blue eyes, sailor-mean…Fallstaff sings a sorrowful refrain, for a boy, in Fiddler's Green…"

Last summer I watched the Hip's final show from Kingston on TV with the man I was dating at the time. I cried when they did that song, as I always do. I didn't say why when asked "It's just sad" I said, and blew my nose. I've been doing that a lot of that, the last couple of days too.

We broke up a year ago this month. I've been thinking about him a bit. Anniversary grief, they call it. Not longing…just noticing the passage of time. Hurting just a bit. Then that Big Red Banner.

"aaaahhhhhh, nothing's changed, anyway…"

It's all just a bit too much sometimes when it all comes crashing in on you like that. In a Big Red Banner.

A dead baby, almost 30 years ago. A short, but steamy affair, ended abruptly, almost exactly a year ago. And a Canadian icon dead, yesterday. Yahoo said so, in a BIG RED BANNER. Couldn't miss it.

"his tiny knotted heart, well I guess it never worked too good…"

The soundtrack of my life, and so many millions of Canadians, ended. He's made his final bow, there will be no more encores. No more costume changes into another shiny suit and fancy hat. His pain has ended; now we just need to work through ours.

"The timber tore apart, and the water gorged the wood…"

Who will sing about Gord's life? Or his death? Will he be buried some place he doesn't want to be, will they dig him up and transport him, unceremoniously, away from the swollen city-breeze, garbage bag trees, whispers of disease and the acts of enormity, will they lower him slowly, sadly and properly, will Ry Cooder sing his eulogy?

Nothing has happened in my life in the past 30 years that I can't find a line in a Hip song that is appropriate to the event. The music of my life, as told by The Tragically Hip. Now tragically without their front man. Gord Downie – dead at 53. I feel as though I've lost a dear friend.

September seventeen
For a girl I know, it's Mother's Day
Her son has gone alee
And that's where he will stay
Wind on the weathervane
Tearing blue eyes sailor-mean
As Fallstaff sings a sorrowful refrain
For a boy in Fiddler's Green

His tiny knotted heart
Well I guess it never worked too good
The timber tore apart
And the water gorged the wood
You can hear her whisptered prayer
For men at masts that always lean
The same wind moves her hair
Moves a boy through Fiddler's Green

Nothing's changed anyway
Nothing's change anyway
Any time today

He doesn't know a soul
There's nowhere that he's really been
But he won't travel long alone
No, not in Fiddler's Green
Balloons all filled with rain
As children's eyes turn sleepy-mean
And Fallstaff sings a sorrowful refrain
For a boy, in Fiddler's Green
https://youtu.be/mtxZfVvMjh8


with thanks to the CBC for the photo of Gord.