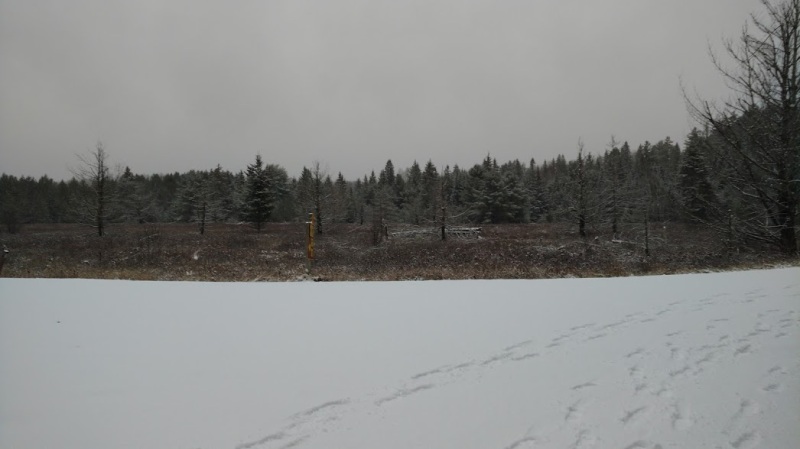 Is it possible to travel, go on a road trip, and even go camping, and stick to AIP elimination phase? Absofuckinglutely it is! Here's a few tips. And yes, I'm crazy enough to go camping in late November in Ontario! Kreacher and I spent a long weekend up in Algonquin Park, and had a blast in the snow.

I prepped a few things the day before we headed out. I wanted to try out a few recipes that I had seen online, and unfortunately didn't get to them because of the unexpected snow, but I did still eat well while I was away. And I'll check out the recipes here at home. I'm sure they won't be quite the same as cooking them over an open fire like I had wanted, but maybe next time, when I'm better prepared. We live and learn right?

I had gathered up the ingredients to make this cookie pie from Beyond the Bite, and I was going to do a downscaled version without the chocolate chips, with some carob powder, over the fire. But, I forgot the aluminium foil to cover the pan with, so, that was a no go! I have a couple of mini-cast iron pans that I bought last year at the after holidays sale, they came with a gluteny cookie mix that I just tossed in the garbage. I only wanted the pan anyway.

I was also going to do this breakfast risotto with greens recipe from Autoimmune Wellness, but with the cold and snow, I never got around to cutting into the butternut squash. I should have cut it up ahead of time. Next time I'll know!

I *did* make this lemon ginger granola recipe from Backcountry Paleo before I left, and it kept me going when I needed a quick energy snack while I waited for the fire to get hot enough to cook on. Which, not surprising, takes longer when the logs are frozen and the fire pit is full of snow.

I have also fallen in love with these paleo maple marshmallows from Anya's Eats. So so good! Full of gut healthy gelatin, and not too sweet. Goes great in my hot no-coa my own new recipe. (will post soon!)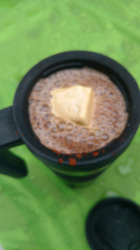 We drove up on Friday, and as always, I missed the turn off to highway 35, AGAIN, so ended up with a 50km detour through Peterborough. AGAIN. Every. Frackin'. Time. Next time (I say that a lot don't I?) I'm taking Hwy 7 instead of the 401, then I can't miss the turn off to 35. Remind me ok?

Friday was a bright sunshiny day, and we arrived at the campground just after 3, which left me just a little over an hour of daylight to get the tent up, start a fire and prepare for the rain the forecast was calling for over night. The temperature wasn't cold, it was above 0C/32F at any rate, and was only supposed to be about -3C/27F at night. I have two sleeping bags that are rated to -3C zipped together so Kreacher and I can snuggle up to keep warm, plus my summer sleeping bag and 2 fleece blankets as well. We actually got too warm during the night, Kreacher crawled out of the sleeping bag to sleep on top, but then I had to wake him up a while later to put him back in because he was shivering.

The Camp Hosts came to help me put my tarp up over my tent, it was already dark by that time, and my fire was barely staying lit, the logs were frozen. I'd had to use some of the hardwood pieces to hold down my tent fly, because the ground was too frozen to get the pegs in. The last forecast I had looked at before I left said rain, the camp host said one radio station said rain, one said snow. We were hoping for snow, it tends to be a bit drier. We got the tarp secured, they went to their nice warm trailer, and Kreacher and I had dinner. He had his usual kibble and canned food, while I had some beef jerky, granola and some dehydrated mango pieces. The fire just would not warm up enough. The previous campers had left it full of garbage, which had gotten wet, then froze, so as it melted, it left everything wet. I sat trying to keep it going for a while, but gave up around 7:30-ish. We headed to the comfort station, where the heat is turned on, and there's flush toilets. Kreacher enjoyed the warmth. We were in bed before 9pm.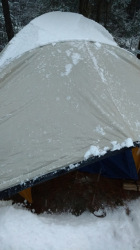 We woke Saturday morning to a nice shiny blanket of snow. Through the night it woke me up a couple of times as it slid down the side of the tarp, I wondered more than once if it was a bear coming to play in the snow, but it's late in the season for bears. We had kept warm all night, except that for when I had to get Kreacher back under the sleeping bag. We were both well bundled up, me in my merino base layer, and Kreacher in his Thundershirt. We were quite comfy really.

My breakfast fire started easier than the dinner fire, but still burned a little slow, and not very hot. It took a couple of hours to boil my water for a cup of tea! I can be very patient when I'm camping though, I know it'll happen eventually, and I was prepared with easy snack foods to keep me going until my breakfast cooked. Breakfast finally got cooked, and Kreacher and I had a bit of bacon with some kale slaw, and a cup of Earl Grey. I warmed up his water and food bowl in the fire for a bit, he had buried his kibble in the snow, and the water was starting to freeze.

When you're camping solo, there's always stuff to do at the campsite. Start the fire, keep the fire going, cook the food, keep the fire going, clean up the cooking so that we don't attract animals, keep the fire going…Add to that the snow had turned to light rain, so I covered the picnic table with a tarp so Kreacher could sit under there to stay sort of dry. I tried my Canon camera for some photos and a short video, but the battery was cold, so it died. I stuck the batteries in my inside pocket to warm up and try again later.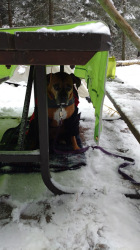 The day passes quickly when you only have about 10 hours of light. By the time I got my breakfast cooked and cleaned up again, and we went for a walk back up to the comfort station to do our business (Kreacher does his along the way of course!), and to get some more water, it was almost lunch time! It had started raining a bit harder by this time, so we crawled into the tent for an afternoon snooze. Kreacher was wrapped up in my infinity scarf that I had knitted, and he curled up under the blankets and was fast asleep fairly quickly. I read for a little while, then fell asleep myself. I woke up around 2-ish, with a raven in my campsite squawking, I crawled out of the tent to see him, but he flew away. I decided to do some video for a project I'm working on. The camp hosts came by with their wee Gizmo dog, so we chatted for a while. She also has autoimmune disease, loves camping, and loves the paleo lifestyle for health, when conventional medicine was unable to help. It always amazes me, how far out the ripples go. Kreacher stayed in the tent sleeping.

I set up my camera and sat down on the picnic table, and Kreacher eventually crawled out of the tent. The rain had slowed, but it was still a bit of a drizzle. Everything was wet, but I was dressed in several layers, with an outside rainproof layer and some nice warm waterproof boots. At around 3:30 or so, I figured I should start cooking dinner, if the 2 hour cooking time of breakfast was any indication!

The fire got going really well this time around, and I was able to cook my dinner, some lamb sausages, broccoli and brussels sprouts, and a nice steamy mug of no-coa with marshmallows. I even had a couple of sausages left over for breakfast the following day.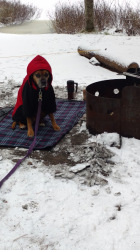 Kreacher and I sat by the fire for a little while after I cleaned up, but it gets dark quick up there, and with the sky completely overcast, and no light from stars or moon, It had started to rain heavier again, we were in bed by 6pm! I fell asleep reading, and woke just before 9pm with my tent trying to suffocate me! The rain had turned to freezing rain, and then heavy snow. It weighted down the tarp, pulling it down, then squishing the tent. I tried to clear it from the inside, but it was no good, it was like a bear was sitting on it! I dragged the sleeping bags and Kreacher out of the tent, and stuffed it all into the rental VW Golf. Not the best car for the weekend really! I didn't have a headlamp, and couldn't find my flashlight in all the excitement, so I started to drive toward the comfort station. The car skidded and slid for quite some time before I could get traction. No snow tires! They were not much better than rain slicks really. You bet I complained to the rental company about that!

I happened along the camp host on my way over to the comfort station, he said he'd come over and help me with the tarp. We got that all off, and the tent un-squished, but I decided to sleep in the car anyway, just in case. The snow had changed now to dry and fluffy, but I didn't want to wake up again with the tent trying to suffocate me! That was quite frightening!

I bundled Kreacher up under all the fleece blankets in the backseat, and I put the front passenger seat all the way back and got into the sleeping bags myself. I opened one window a slight crack, and put one tarp over it so the snow wouldn't come in. This reduced the inside condensation, so I wouldn't have to scrape frost off the inside windows in the morning. I was also afraid of carbon dioxide from our exhales building up and giving me a headache, I already had a headache and didn't want to make it worse.

We got up Sunday morning to see the tent still standing, though a little off kilter, and about 10cm/4in of snow. Maybe a little more. Ankle deep on me, and tricky to walk to the comfort station. Good exercise though! Kreacher was having a blast, he loves snow, but hates the cold. It was warm, and the snow was fluffy. We made it back from the comfort station, and the camp host came by to see how we'd fared through the night. He's prepared, and has snowshoes on!




I packed up everything, not easy to do when it's cold, wet and covered in ice and frost. Gave Kreacher his breakfast, and I ate a cold lamb sausage and some granola. Seriously, that stuff saved my life this weekend! There was no hope in hell that I'd get the sleeping bags back in their stuff sacks because I had nowhere dry to lay them down. The tarps and tent had given me enough hassle, so I figured I'd get it all done after I got home.

I tried to wait for the park plow to do the road before I left, but he was already 2 hours late, so I decided to make a run for it. I skidded and slid for a while again, before I got out of my camp spot, and to the garbage bins. It took me a couple of tries to get away from there as well, then I saw the plow. I headed toward the exit, and the plow had only gone half way up that road. I had to gun it to get through the snowbank he'd left. I returned the bag and a half of firewood I hadn't used (losing out on $10!) and headed to the highway. I was going to visit a friend who lives close the park.

Along the way I saw a couple in a Mini Cooper stuck in a snowdrift, so stopped to help them out. They were German tourists, just out for a drive through the park, and didn't realize there's not enough ground clearance on the Mini. Another couple also stopped to help, so we had them out in no time. Just another snowy day in Canada! I always try to help when I can, and I was feeling good about myself, so wanted to share it.

I stopped for gas and a cup of tea, then got to my friend's house, after going right past her on the way! Her house number at the end of the driveway is difficult to see, so I missed her the first time by, and with the snowbanks, there was no where on the highway to make a uey, so I had to head to the next town, call her from there, then turn around and head back. And of course, the stupid rental car got stuck in the snow AGAIN, when I had to stop because her dog was sitting in the driveway waiting for me! LOL!

She's got a beautiful home, and gorgeous forested 20 hectares/50 acres of land. She also keeps chickens, who were none too happy about the early snowfall, and were making their opinions known. We went for a walk around, and the dogs chased each other off-leash through the woods. Then we went inside to warm up with our tea and had a lovely visit, but not long enough. I had a long drive ahead of me, and some not nice weather forecasted. So I headed out. After getting stuck in the snow some more. She had to push me out of the end of the driveway, until the front tires grabbed the pavement of the highway. Mental note…VW Golf is crap in the snow.

I had a lot of cleaning up to do when we got home, I had to dry everything out before I can put it back into storage, and had to wash all my clothes to get rid of the wood smoke smell. Which takes more than one wash to go away, but I can live with that.

I would most definitely go winter camping again, and after this weekend I know how to be better prepared. And it can be done, entirely AIP elimination phase compliant! I love camping, I love cooking over an open fire, and it doesn't get much more paleo than that! Unless I had been sleeping in a cave. ????