Are you passionate about holistic health and ready to reach a deeper level of personal nourishment?


Do you dream of a fulfilling career helping others become healthier and happier?
The Institute for Integrative Nutrition's Health Coach Training Program (HCTP) may be perfect for you! During IIN's one year program, you will learn from inspiring leaders in the health and wellness industry as well as experts in business and marketing, connect with an amazing supportive community, and experience a remarkable personal transformation, just like I did – all through a convenient online platform that makes learning on-the-go possible for anyone. I watched and listened to most of the modules while on the bus going back and forth to my full time job. They've really made it so easy to fit the course into any busy life. I recently sat in on a webinar where they told us all about the changes that have been made to the HJTCP, and I wish I could take the course all over again! There's new and updated nutrition science, a business library, new visiting teachers...so much amazing!


Check out a
sample class
for a taste of what IIN is all about! Some of the core concepts and nutrition topics included in the curriculum are:
Over 100 dietary theories
The modern health crisis
Bio-individuality
Primary Food
Crowding out
Deconstructing cravings
Energetics of food
Food/mood connection
Inflammation
Digestion
Toxins


In addition to this, IIN will also provide you with coaching, business, and marketing skills so that you can share your knowledge with others as an Integrative Nutrition Health Coach if you choose to do this work professionally – part time or full time!


I can't tell you enough about how much I love this school, and if you're passionate about wellness like I am then I have a feeling you'll love it too. IIN is more than just a school…they're a movement on a mission to improve health and happiness around the world.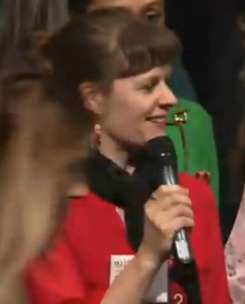 I had the opportunity to attend the IIN Spring Conference in New York City, April 2015, that's a picture of me on stage! It was such an amazing weekend, the community, the support, the ENERGY of all of the gathered health coaches, and students, and the speakers' presentations...I think this was one of my favourite moments from the conference. All of the international students were invited up on stage to introduce ourselves and to say a word or two of inspiration. I got the bug, and said to my friend next to me that someday we'd both be back, standing on the stage as speakers and superstar health coaches. Can you just imagine yourself on stage, teaching fellow and future health coaches? What a feeling! Below are just some of the awesome friends I made that weekend. We're not all from Canada, there were folks from all over the world in that photo. England, New Zealand, Israel...truly we are an international family. Whenever I need help, I just have to ask any of them, and they're there for me.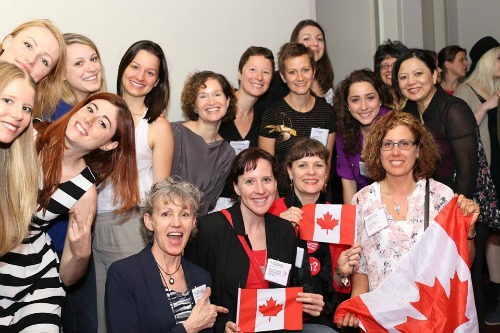 I'm so proud to be part of this mission and community. I've covered the basics here, but there's so much more to learn. Check out their
Curriculum Guide
that goes into more detail on the curriculum and opportunities you'll have as a practicing Integrative Nutrition Health Coach.
Feel free to reach out to me anytime. As a graduate and an IIN Ambassador, I'm here to answer any questions that you might have about the program and my experience as a practicing Health Coach. I signed up through a referral, just like this one. It popped up in my in-box one day, and it was just what I was looking for. I signed up, started the program about a month later, and have not had any doubts or regrets ever. This is what I am meant to do. This is what I've been looking for for years! I had looked at other nutrition programs, but they just didn't "fit". IIN fits...they're my tribe...we're a great big, international on the road to healthy family, spreading the ripple effect. If this sounds good and you're ready to start your personal journey, give the team at IIN a call at 877-733-1520 or contact me personally at rebecca@rebaweber.ca