Originally posted on August 17, 2015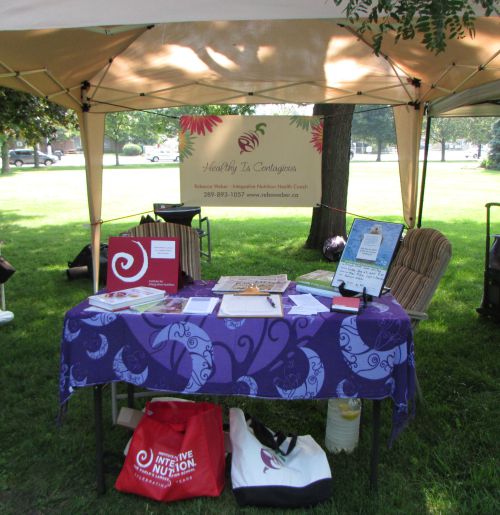 My apologies for not having more blog posts updated lately, I have been busy moving my website to a new provider, and have to get it all moved (manually! there's no migration tool from where I'm at to where I'm going!) before August 31st, or lose content. So...I've been spending my days doing copy and paste basically. Yeah, ain't technology fun?
I was also working on my workshop that I led yesterday at Durham Pagan Pride Day, called "Healthy Community". Like all communities, we have our difficulties with communications, and getting together and sometimes we just don't get along. Because synchronicity works the way it does, and we don't always see it coming, not only my workshop, but a following workshop, plus the closing rite all were based on biding community. Remember, you can't have community without unity!
My workshop was based on 3 premises. The first being the
Ontario Healthy Community Coalition,
which is a part of an International Healthy Community coalition. They have some great resources on how to build a healthy community. Now I'm not just talking about people being "healthy" within their community. I'm talking about healthy unity. Leaders working together and bringing together diverse groups to work together for a healthy community. Healthy communication, and cohesive blending of individuals to make a whole. Whether you're a "solitary" practitioner, or a member of a larger group (Grove, Coven, Shire...), my goal is to bring people together to present to the wide world a functioning community. As my friend Rev. Terrie Brookins said at the closing rite, we are the fringe, but we are all Pagan. We may have our differences in practice, but we have that in common.
Healthy Community Characteristics
(taken directly from the
OHCC website
)
1. A common sense of community, including its history and values that are strengthened by a network of leaders
2. People and community groups who feel empowered and have a sense of control
3. An absence of divided turf, conflict and polarization
4. Structures where people from diverse groups can come together to work out decisions about the community
5. Leadership that functions both from the top down, and the bottom up
6. Effective channels for networking, communication and cooperation amontg those who live and lead there
Healthy Communities are based on the following principles:
Health is a state of complete physical, mental and social well-being.
Social, environmental and economic factors are important determinants of human health and are inter-related.
People cannot achieve their fullest potential unless they are able to take control of those things which determine their well-being.
All sectors of the community are inter-related; sectors need to share their knowledge, expertise and perspectives and work together to create a healthy community.
My goal as a health coach is to not only bring together the people in the Durham Pagan community, but to also help people with their own physical health. Healthy is contagious! I've been saying this for years! And it is scientifically proven. If you have friends and family who are healthy, you are more likely to be(come) healthy yourself. If however your immediate circle of friends and family are obese and un-healthy, you are more likely to be obese and un-healthy yourself. So, to go along with bringing people together in unity, I will be developing a health coaching group program for the Durham Pagan Community.
I am also incorporating facets of a faith based wellness program out of a mega-church in the US called
"The Daniel Plan".
The Daniel Plan was developed by
Pastor Rick Warren
,
Dr. Daniel Amen
(no the plan is not named after him, it is named for Daniel, in the Bible),
Dr. Mark Hyman,
and
Dr. Mehmet Oz.
Dr. Amen and Dr. Hyman are both visiting lecturers with IIN, and I respect them very much. I'm sure you're all familiar with Dr. Oz. While this is primarily a Christian faith based wellness program, the tenets of it can easily be used for any community.
The
Five Essentials
of the Daniel Plan are
Food, Fitness, Focus, Faith and Friends.
The third part of the program that I will be using to help our healthy community is of course
The Blue Zones
. I want to create a Blue Zone right here in Durham Region within the Pagan community.
If you are unfamiliar with The Blue Zones, they are 5 pockets of communities in the world that have the highest populations of centenarians. Ikaria, Greece. Sardinia, Italy. Loma Linda, California. Nicoya, Costa Rica. Okinawa, Japan. In all of the 260+ centenarians interviewed, all but 5 of them were very active in their local religious communities. Doesn't matter *what* religion, but it does have a lot to do with overall health for most people. Even a community of agnostics or atheists coming together to get healthy together is better than doing it alone.
In Okinawa, Japan they have this amazing tradition of creating what they call
moais
when students first start off to school. They put children together from the same geographic community so they can go back and forth to school together, and they spend their entire lives as friends. There are women in Okinawa who still are best friends with their moais well past their 100th birthdays! They've been friends for over 100 years! Can you imagine, knowing forever that you have this support to go to when you need it, to call up whenever you need someone to talk to, to talk you down, to talk you up, or just to chat over a cup of tea for a regular every day jaw wag!
We had an amazing discussion at my workshop about how this could work in Durham Region (and yes in other regions as well, for any and all communities). There was active participation from everyone there, with so many great suggestions, I feel confident that we can put this together.
My goal as a health coach is to facilitate this. My goal as a health coach is of course to help people become the healthiest they can be. My goal as a health coach and as a pagan in the Durham community is to weave all of these facets of Healthy Community, The Daniel Plan, and The Blue Zones together into one cohesive program. And to have some fun along the way.
I'm still in the development stages, and this will be a winter program, likely 12 weeks over the darkest, coldest months. Something to keep us busy and warm, rather than hybernating and hiding away. My goal is to include not just myself as a health "expert", but also other local experts in the community. A personal trainer whom I've already spoken with, who is already thinking about developing exercise plans for every body type and fitness level. I plan to include spiritual and religious leaders from the community, in fitting with my IIN training of Primary Foods the program will include not just food and exercise, but spirituality, career, and relationship coaching as well. IIN's
Primary Foods
are so in line with the Daniel Plan's 5 Essentials.
In order for this program to work of course I will need bums in chairs so to speak :) Although I don't think we'll be sitting all that much, I do plan to get you up and moving often! I will need a minimum of 6 people to sign up for each group. Preferably more, as many as 20 I am sure will be manageable, if I can secure a community hall for 12 consecutive weeks. If there are more than that many interested, I may create more programs, consecutive and/or subsequent, and then meld them somehow at a later date at a party perhaps.
I hope to see not just individuals who wish to be healthy sign up for this, I want to see any and everybody who wants to be involved in uniting our community. I want them to bring their partners/spouses, their parents, their children, their neighbours, aunts & uncles and grandparents! Even if your partner/spouse does not follow the same religious path that you do, they will still most definitely benefit from this program. Each person will be paired up with an accountability buddy (who is not their spouse and does not live in the same household!), who will become their best friend for the 12 weeks of the program, and for the next 100 years.
I am still working on pricing structure for the program. It will definitely be less $ than my one-on-one coaching, and affordable for families. I need to be able to cover my own costs as a coach, for the community hall (or whatever facility we end up with), for supplies, for research, for food samples, for fun and games and oh so many things! Children ages 13 years and younger will be no charge, and will be expected to participate, not just sit in the corner and play games on a hand held device. Children age 14 to 18 will be less than half the adult price, and seniors 65+ will be lower $ as well.
I am very excited to be developing this, and from those that I spoke to yesterday, there seems to be a lot of interest in not only uniting our community, but in coming together to get healthy and have fun together.
If you are in Durham Region and you are interested in this program, please send me an email to rebecca@rebaweber.ca and/or comment below. I'd love to hear from you! If you are interested and there is anyone in the community you feel would benefit from this program, please send them this link, and bring them with you! The more the merrier! Truly, that's how this is going to work, with More People! Sharing is caring :)