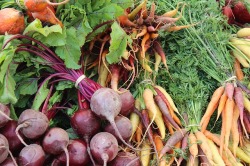 By eliminating refined grain products like bread, and sugars, and rice, and white potatoes, and breakfast cereals, are we going to be un-healthy? The Canada Food guide says we should be eating up to 11 servings of grains per day! What about all the fiber and "enriched" nutrients we'll be missing out on!?

Yeah well, they're wrong! We absolutely Do Not Need grains at all, let alone that many servings per day! EEK!

So, is AIP low carb? It can be. But it doesn't have to be. It is definitely low-er carb than your standard diet. There are lots of sources of carbohydrates that are *not* grains or not white sugar. Plus, refined grain products such as bread, bagels, breakfast cereals really don't have that much fiber in them, once you compare the fiber and nutrient content to vegetables. It's a slam dunk for vegetables every time.
Everything except meat has carbohydrates in it. Not just grains. For some reason everyone always thinks of grains when you say the word "carbs". But Brussels sprouts have carbs. That Big Ass Salad has carbs. Apples, celery, sweet potatoes, beets, squash, coconut, mushrooms, even shell fish...EVERYTHING! And most will have a heckuva lot more nutrients and fiber than manufactured grain products ever will.
It's only been for about the last 40 or 50 years that our government dietary recommendations have been telling us to eat so much grain. We didn't used to eat all that. Which is very likely why we've been getting sicker and fatter for the past 40 to 50 years as well! If we look at the statistics of chronic disease progression, and the dietary recommendations of grain servings, both have gone up considerably, at about the same rate. Sure, co-relation does not equal causation, but c'mon already! I think it's time to take a good long look at it!
Let's say you've started AIP on your own, or you've gone "low carb" and initially you feel great! You feel fantastic in fact! You've eliminated all manufactured junk foods, no more bagels for breakfast, no more pizza for lunch, and no more pasta for dinner. You have bacon for breakfast lunch and dinner. And then after a couple of weeks or months, you start to feel like crap. But why? You felt so good for a while there!
Well, just by eliminating the junk, you're going to feel better. By eating more "real" foods, you're going to feel better. But then after a while, if you have gone too low with the carbs, your body will start to say "hey, I need more nutrients!" Because the best nutrients for energy, health, and longevity, are in the vegetables. Not the fats, and not the meats. Though both are good and helpful for a healthy long life. Even though the Canada Food Guide will tell you otherwise.
If you've decided to try low carb, or straight up paleo, or even as far as AIP, but if you go too low carb for too long, you may start to feel sluggish, and lacking in energy. You can add in some more higher carb "allowed" foods. I personally quite like cassava. Grated cassava is perfect for making a bread like substance that is perfect for paleo eggs benny. Cassava flour is an amazing 1:1 substitute for all purpose flour in a lot of recipes, like cupcakes. And if you're missing the convenience of a sandwich for lunch, cassava tortilla wraps are really good too! But you don't want too much cassava, as the nutrient profile on it is not so much desirable. It's basically just white, and should be an occasional addition, not an every day thing. We're going for nutrient density to heal our disease, we're not just counting macros. Which is what the Food Guide does. Which we already know doesn't work.

Tigernuts are an amazing snack, they're high carb, but also high fiber. One serving has about 19g of carbohydrate, but with 10g of fiber! They're also a good source of prebiotics, which feed the healthy probiotics in your gut. You can eat whole tigernuts, or get tigernut flour and make treats, or make tigernut "butter" for a spread, or for dunking apple slices or celery sticks.

Probably my all time favourite source of carbohydrates though is root vegetables. Sweet potatoes, beets, turnips, carrots, parsnips, rutabaga...so many! All are nutrient dense, full of fiber and flavour to boot! I love making a roasting pan full of root veggies. Absolutely my favourite! And so colourful. The micronutrients available in root vegetables can help you balance your out of whack immune system, as well as give you healthy skin, eyes, lower your cholesterol, help fight cancer and cognitive disorders, and will help to keep your bowels regular.

Still confused about carbs or curious about AIP and don't know where to start?? Send me a message rebecca@rebaweber.ca

Don't forget about the Autoimmune Healing Intensive, starting in January! The Autoimmune Healing Intensive puts the power of healing back in your hands. This self-directed online program is designed to guide you through a practical approach to wellness using low-risk 'experiments'. Delivered on an exclusive website with detailed, downloadable worksheets and guides. Early bird pricing is still available! Give yourself the gift of health this holiday season.