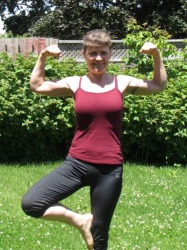 Often people will make New Year's resolutions to lose weight, get in shape, and look better naked. But how do we go about sticking to these vague (and often unrealistic) ideas of good health?


Close your eyes for a moment and visualize what does a healthier you look like? Go ahead, I'll still be here when you open your eyes again...


Is healthy skinny? Does healthy have abs? Does healthy look smokin' hot naked?


What does the inside of healthy look like? Are all of your internal organs working to optimal? Do you suffer from joint or muscle pain for several days after a grueling workout? Do you still have chronic disease symptoms like migraines, diarrhea or constipation? Are you still taking medication for type 2 diabetes, high blood pressure, GERD, or restless leg syndrome? So, you look better naked, but are you HEALTHY?


Can you have healthy AND look good naked? Which is relative, everybody's image of sexy and beauty is different, but let's just try to make it a healthier image than a runway waif!
Making SMART goals for the new year, rather than a vague resolution to "get healthy" will help you to stick to your plan, and help you choose a realistic goal.
SMART stands for Specific, Measurable, Achievable, Realistic, Timely. Specific - what do you want to accomplish? Measurable - how will you determine you have reached your goal? Achievable - How will you go about reaching your goal? Realistic - is this doable? Timely - by what date do you expect to reach your goal?
Let's suggest that your goal is to loose some weight and be healthier. How much weight do you want to lose? Pick an exact number. Look at that number, is it realistic? Are you female, 5' 6" and 200 lbs and you want to get down to 110? Is that realistic? Is 110 lbs healthy for a woman of that height? Probably not. Let's shoot for 130 lbs. How will you go about losing this weight and getting healthier? Will you go on a juice fast for 1 month, or will you eliminate manufactured junk foods and beverages, go to the gym 3 times each week for the one hour HIIT class, and eat more non-starchy vegetables each and every meal? Pick a date that you want to reach your goal. Will you lose 70 pounds in one month, or slowly and steadily over the course of 12 months? Which is a loss of about 6 pounds per month. It took you several years to get to where you are now, it'll take some time to reverse it. Be patient with yourself, and with the process. You can't lose 70 pounds in a health promoting manner in just a month or 2. Let's not start another round of yo-yoing. Let's do this the healthy way.
Instead of something vague like "I want to lose 70 pounds", do this "I will lose 70 pounds by Christmas 2018, by going to HIIT class 3 times each week, by drinking 2 litres of water every day, and filling my plate 2/3s full with colourful veggies at every meal.
That's more succinct. You have a clearer vision of what you want to do, and how you're going to achieve it. Speak as if you are already doing it, not future tense. If you use "I'm trying to lose weight" rather than "I am losing weight", you may be setting yourself up for disappointment. The words we use matter. Remember Yoda "Do or do not, there is no try". Don't just "try". DO IT. When you try, you give up. When you DO, you DO. You don't have to do it perfectly. Everyone has bad days. Even I have been known to just have a bottle of wine and a chocolate bar for dinner. But the next day I get right back on track and have my usual healthful breakfast of some lean animal protein, with loads and loads of vegetables and some healthy fats. I don't beat myself up about it. I just get on with it. I don't fall off the wagon, so much as just hop off to walk alongside it for a bit. Then I hop right back on again.
Find an accountability partner. Whether that's a friend who will join the gym with you and will go grocery shopping with you to make sure you choose healthier options, or if you hire the services of a personal trainer, or a health coach to help you stay on track, having someone to be accountable to makes it easier to stick to it. Get your family on board. If you have a partner and kids, sit them down and tell them "this year I am going to lose 70 pounds and I'm going to get in shape. I need your help to do this. We will no longer have packages of Oreos and bags of potato chips in the house. If you want to eat those things, I would appreciate if you could do so outside of home. I know you love me, and I know you want me to be healthier. By not eating these things, and by going to the gym, I will have more energy to do things as a family that I have been unable to do lately. We can all learn how to cook together." Give your family the option to *not* join you in your healthier efforts, but ask them to eat the junk food outside of home, where you won't be tempted. Also give them the option to join you in your efforts, by learning how to prepare healthier tasty meals that everyone will enjoy. Find family activities you can all do to have fun, and be healthy. Go to the park and play on the swings and monkey bars. Go for a walk together. As you get closer and closer to your own goal, your activities can become more strenuous. Learn to rock climb. Learn to surf. Go on a 5 day bicycle tour or hike a section of the Appalachian Trail. The possibilities are endless!


The Autoimmune Healing Intensive is still available to join, any time during January, then it's gone! Get more than 20 self guided AIP experiments, with 30+ AIP experts and collaborators. Not ready for full AIP? Pick and choose the experiments, or do them all. It's entirely up to you.
What are your goals this year? What does a healthier you look like? Would you like to look like that by this time next year? I can help. Click the "contact" link above, or send me an email to rebecca@rebaweber.ca let's start 2018 with a plan!