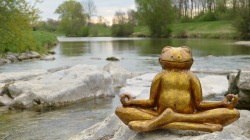 I go on a lot about food, and how it can either be what's making you sick, or it could be what's keeping you alive and thriving. The typical North American diet is generally going to be what's making you sick, or certainly *not* thriving at any rate. The paleo autoimmune protocol (AIP) though, being a nutrient dense diet, and the closest thing we've got to eating how our ancestors ate, how we actually came to be the human race! well, that'll keep you healthy and living a happy and long life. Unless you get trampled by a herd of mastodons. No one can survive that!
But there are so many other components to consider how to remain healthy, or how to regain your health if you have found yourself with a chronic, or even acute, disease. Those things that we call "Primary Foods" at IIN. Primary foods are integral to the AIP as well. These are the non-food things, that nourish our soul, and help us to replenish our bodies, minds, and spirits. Things like meditation, and yoga, a spiritual practice, community, and intimate relationships. Self care. Things and activities that take care of You that you don't put on your plate or on a fork.
Lately I've been getting really stressed out. Building a business as a health coach is tough! For one thing, hardly anyone has ever heard of a health coach, especially here in Canada, so nobody really goes searching for it. If they're not looking for it, they're not going to find me. Having a full time job still to pay the bills, and doing my "passion project", as Stacy Toth calls it, part-time after my day time gig, well, it's pretty exhausting! And I'm not gonna lie, it is costing me a whole crap tonne more money than I'm making. Which is frustrating, to say the least. BUT, I persevere!
So lately I've decided that I'm going to take care of me, as well as take care of building my business. I need time to de-stress. Time to rejuvenate. Time to give my brain and body a rest. I decided to sign up for the "energy exchange" at my local yoga studio, and decided to take meditation classes at the Buddhist meditation centre across from work.
While I'm being truthful, I'll confess that I have not really done much of anything in the way of working out since I started the AIP cert course last summer. The course finished in September, but once I was out of the habit, I found it way too easy to talk myself out of the need to do it, and haven't been able to pick up the habit again. I have lots of excuses of course. I don't have the space for one. I don't have money for a gym membership. The "club room" in my condo is *the most pathetic on the planet!* Ad nauseum. I still go for walks with the dog. Since winter has set in, they do get shorter, especially when the temperatures are down in the minus double-digits! I've had to buy new jeans, a size larger. Which sucks really. But at least I got them on clearance, and didn't have to pay too much for them.
So the yoga "energy exchange" I will be starting this Sunday for training. I will do a couple hours of work for them each week, and in exchange I get to do yoga for free. Where I'm going to fit all this time in, I haven't figured that out yet. LOL! The Buddhist meditations are weekly on Thursday evenings, and also free, or by donation. So whenever I have some "extra" money, I will drop some in an envelope into their box. I had a fantastic introduction to their Energy Bagua walking meditation last night, I was so relaxed, and had noticed a considerable reduction in my arthritis pain in my back, and loosening of all the stress that I was holding in my neck and shoulders. I was just going to go and check it out to see what it was, and have decided that I will go for some more next week as well, and maybe the week after. Which means I won't be able to see clients on Thursday evenings, but that's ok. I still have Monday, Tuesday, Wednesday, Friday and Saturdays.
I'm also looking for a new day gig. I have been working in the charitable sector for a few years now, and while it is spiritually rewarding (karma and all that you know), it is not at all lucrative. I make considerably less than I did way back in the early 2000s in the corporate sector, and my cost of living has gone up quite a bit since then. And not just because it's 15 years later, but because of celiac disease and all of my other diagnoses, I can't live off of ramen noodles and $5 pizza anymore. I'm also 50 years old now, and need to consider my retirement. I don't want to have to work at Walmart as a greeter until I drop dead!
I almost gave up, a couple of weeks ago. I was ready to pack it in. I looked at my credit card statement, and my empty bank account, and thought "I can't keep this up". Then a couple new clients found me, so I'll be stickin' around now. Funny how that works eh? Everyone says "tell the universe what you want and it'll bring it to you" I told the universe I give up. And I got 2 new clients. I should have gave up a few months ago! LOL!
My new business hours will be Monday, Tuesday, and Wednesday 5pm til 7pm. Eastern time zone. Closed Thursday. Open Friday and Saturday by appointment. Closed Sunday. I need time for me, to fit in my own Primary Foods. I can't serve my clients, or my family, or my day job, if I run myself into the ground. I will see clients in the Toronto area in person, we can meet up somewhere (my condo won't allow me to see clients here), or we can consult over the phone, or on Zoom, so I can consult with clients from anywhere in the world! (I love Zoom!) I am still offering one-hour no charge health history sessions. If you'd like to talk and find out if my programs are the right fit for you, make an appointment. Email me anytime rebecca@rebaweber.ca or click the "Contact" link above. If you know anyone else who you think may benefit from my programs, send them my information. Sharing is caring.
Being a health coach is what I'm meant to be. And if that means I do it part-time while I work a full time job for "the man", then fine. I'll do that. If someday it turns into more than that, and I can open my own healing centre, then that'll be great too. As long as there's still bacon to be had, I'm good ;)